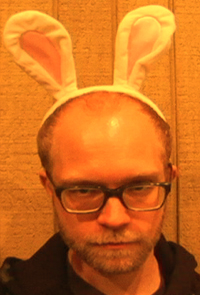 Ford Mustang
LENGTH: 2 min. 46 sec.
RELEASED: April 10, 2008
GIST: In February 2008, Michel Gondry released the film Be Kind Rewind and simultaneously hosted a gallery show in New York City. The gallery featured a wide assortment of low-budget movie sets. Visitors were invited to partake in workshops, and then were set loose to make a film of their own. This was meant to closely mirror the plot of the movie. The end-product films were displayed in a faux video store as part of the exhibition.
The downside of this is that participants did not get to keep their footage. Undeterred, a troupe of enterprising visionaries, also in the spirit of the movie (by circumventing the gallery's system) brought their own cameras and their own agenda. Moreover, the captured footage was taken by individual members of this group and remixed into different videos for the same song, in this case Serge Gainsbourg's "Ford Mustang." Below is the Appealing Industries/Flite Risk Films contribution to this effort.
NOTES: Released April 10th, 2008. Filmed at the Deitch Gallery at 18 Wooster Street in New York City.