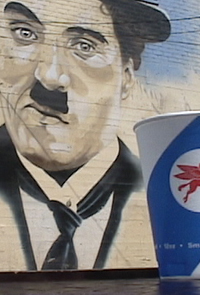 cups being knocked off tables
a holiday film like no other
LENGTH: 15 min.
STARRING: A Cast Of Dozens
RELEASED: December 8, 2002
GIST: cups being knocked off tables. merry christmas.
Months in the making, thousands of miles were traversed and hundreds of cups were knocked off tables to bring the world this film, the first in a new generation of holiday classics.
WATCH:
BONUS VIDEO
Trailer 1
Trailer 2
Trailer 3
Outtake 1
Outtake 2
Outtake 3
GOODIES
The Flier
A plea for submissions. It was responded to by exactly noone. I then realized I had to go ahead and film it all myself.
REVIEWS
LOOK OUT BELOW: Here's the best online short film I've seen in awhile: Fifteen minutes of footage, from all over the country, of "Cups Being Knocked Off Tables." (P.S.: the picture on the web page is of Charlie Chaplin. NOT Hitler.)
-Stephen Silver 1/9/03
I had some trouble really getting into the Christmas spirit this year. If only I'd watched this.
-Chris Newman 1/9/03
I liked Cups being knocked off tables a lot!
-Emily Jones 1/9/03
It seems to be a tribute to mental illness ... and traveling.
-Siguy 1/12/03